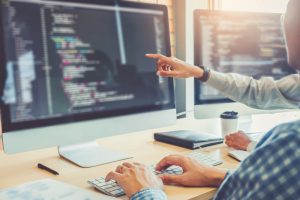 Your website is a very important tool for your business. In order to make the most out of it, you need to be sure you are mindful of the user experience on your site. Take time to improve this experience.
Make Navigation Easy
The first thing you should address is the navigation on your website. You want to make sure your users can easily find the information they are looking for without a lot of confusion. The best way to do this is to simplify. You should have a small number of general headings that will be easy to navigate. For example, you could include an about section, a heading for products/services, or a blog section. In addition to having clear headings, you need to make sure your menu location is easily accessible. Some website designs may be interesting, but they might not be intuitive. Your menu needs to be easy to find. It can also be helpful to include a search feature on your site so users can quickly find the information they're looking for.
Optimize if for Mobile
The important thing to remember about your website is that it won't always be accessed on a desktop. Around 70 percent of web traffic comes from mobile phones. It's much easier for people to search websites on their phones and they expect the sites to work well on mobile. If your site isn't compatible, you will get significantly less traffic. When optimizing your site for mobile, you want to make sure it loads quickly and that it is responsive. Sometimes larger text can be helpful as well as larger buttons that can be easily clicked on mobile. Overall, a simple design can help make your site work well on a desktop and mobile.
Create Quality Content
Users will visit your site for a variety of reasons. If they come to view your content, then you need to create quality content that is worth their time. Your content should be easy to read, skim, understand, etc. Creating short blog posts with headings can make it easier for users to find and absorb the information they are looking for. You also want to keep things simple. Avoid using a lot of jargon and define terms when necessary. It can also be helpful to include photos and videos throughout your content.
It is almost essential for any business to have a website in order to operate. This is the place people go to learn more about you and engage with your services. You want to make sure you create an optimal experience for them.
Read this next: What You Need to Know Before Initiating a New Marketing Campaign