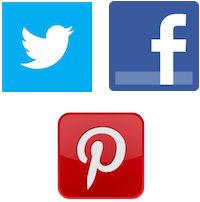 The best way to maintain and build awareness for your small business is through social networking. Here are our top five social networks we think your small business should be on and why:
1. Twitter
· Great for small businesses of any industry.
· With the use of hashtags, your business' tweets can be seen by non-followers; expanding your reach.
· When you reply to a tweet, it creates a better relationship with your customers. The interaction feels more personal.
· With Twitter Ads Self-Service, you can promote your business' tweets and only have to pay for any new follows, retweets, replies, favorites or clicks. You would set a maximum daily budget (similar to Google Adwords campaigns). This self-service also includes analytics.
2. Facebook
· Great for small businesses of any industry.
· With the launch of Graph Search, local Facebook users can find your business easier than ever. If you are a deli located in Warren, NJ, a user can search "Delis Nearby" and your business page should be a search result.
· Facebook also has the option to "Promote" your posts for a minimum of $5 that has an estimated reach of 910-1,700 users. The maximum budget is $50, reaching an estimated 9,100-17,000 users.
· Facebook has built-in analytics for your business page. Use "Insights" to find out the reach of your posts, demographics of your audience, and so much more. You get all this info for free!
· Along with Twitter, you can show your Facebook post stream on your website using a readily available plugin.
3. Pinterest
· If your small businesses have amazing products to showcase, Pinterest is for you.
· You can upload photos or videos of your products and pin them onto boards you create.
· Your pins can easily be liked, repinned, or commented on.
· If your business profile is verified on Pinterest, you now can use Pinterest's new Web Analytics to view insights on your pins. This can help refine your strategy and target audience.
4. Google+
· Great for any business (especially those who need to interact with global customers or clients)!
· Google Hangout is the main feature on this social network. You can easily set up a group videochat meeting with your customers or clients. This is the most personal way you can interact with your target market.
5. Yelp
· Yelp would be most useful for businesses with a physical location. B2C businesses would also benefit more than B2B.
· According to Yelp, 86 million people visited Yelp in the last quarter of 2012. If your potential customers are on Yelp, then you should be too.
· You can create a Yelp Deal, which incurs no upfront costs for your business until a deal is bought.
· Yelp users enjoy checking into places where they receive a "Check-In Offer."
We advise that your business create a profile for all of these social networks. Your business will not reach its online potential if it is only on one social network. In addition, being on these networks can give you various options for different marketing campaigns to run throughout the year.