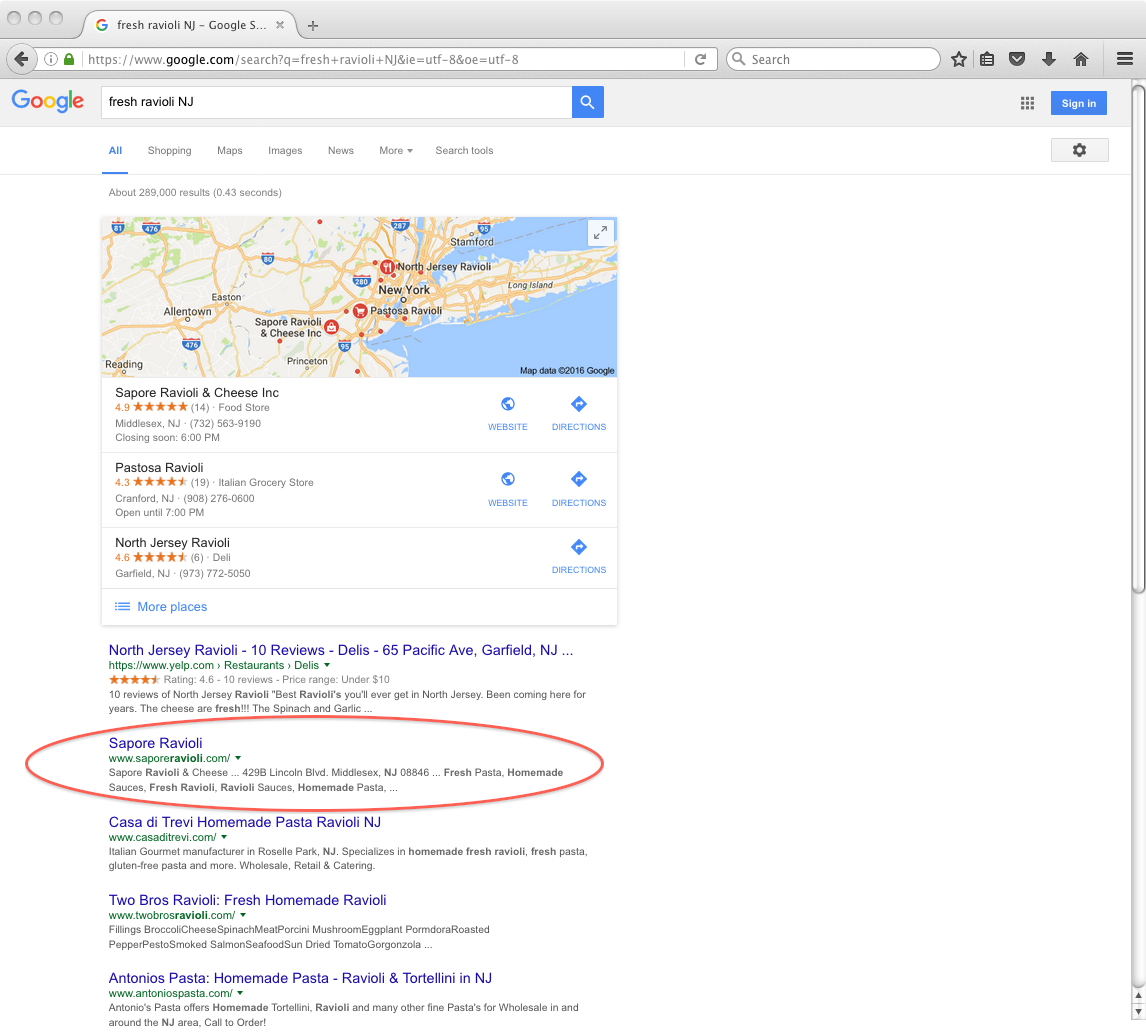 [columns_container] [two-thirds] [smartboxtitle title='Project OVERVIEW' text_align='left' ]
CHALLENGE:
With a small, but devoted following Sapore Ravioli began growing their customer base locally in Middlesex, NJ during the late 90's. Although they were known around town, they wanted to grow exponentially throughout the Tri-State area and become a destination for foodies who love fresh ravioli, sauces, pasta and Italian specialties. Perlinski Design's challenge was to bring an old world business into the modern age while keeping its charm alive.

STRATEGY:
Perlinski Design created a website that they directed customers to place orders for holidays, catering and lunch requests. Search engine optimization of that website was utilized to drive targeted traffic with focused keywords. A monthly email newsletter was implemented to reach customers with monthly specials, coupons and events. Facebook and Twitter were highly curated and grown over time.

RESULTS:
Our initial goal was to grow Sapore's email customer list 50 emails per month. We superseded that monthly goal by nearly 50% within one year by growing their list to over 1000 emails. Their website traffic went from non-existent to 1267 unique users and 1745 sessions per month within one year. Social media attracted attention to new products, industry news and highlighted monthly as well as holiday specials which helped drive foot traffic to the store during peak times.

[/two-thirds] [one-third] [smartboxtitle title='CASE STUDY' text_align='left' ]
Project Date: November 2013
[single_line_divider]
Client: Sapore Ravioli
[single_line_divider]
Project Link: saporeravioli.com
[single_line_divider]
Skills Envolved
Website Design
Organic Search Engine Optimization
Email Marketing
Social Media Growth & Management
[/one-third] [/columns_container] [rp_style1 title='Related Projects' portfolio='all' total=" orderby='title' order='asc' scroller='yes' proj_per_row='3′ categories=" ]